"The larger Sacramento area has been immensely blessed with the opening of the Botanica Apothecary in Fair Oaks Village. Deborah Bustamate is the owner and herbalist, having studied herbalism for many years. Her work is of the highest quality, using many locally harvested plants, organic oils, etc. Her methodology has so much integrity... small batches, hand made. Deborah herself is a gem... a true healer, community-minded, serious and loving. Our community needs both Deborah and her apothecary. They both ADD!"
Thank you, Diane Goettlicher
Beautiful Face Oil and Reishi Facial Serum are antioxidant, anti-aging, hydrating, and anti-inflammatory facial treatments to deeply treat the tender facial skin for any age or skin type. Apply a few drops after a facial steam with a hot cloth. The nourishment will last all day or night.
This line of herbal products is formulated and created just for the pregnant mama and her baby. What a special time it is for them! Not only is her body changing, growing, adjusting, and stretching, but her heart and mind are also. So many of us step up our health protocol in a serious way at this time. The baby is communicating right to the mama what they need. These products are made with the purest high vitality ingredients available to me, grown or sourced out, everything in these can give a family confidence in the health of their becoming.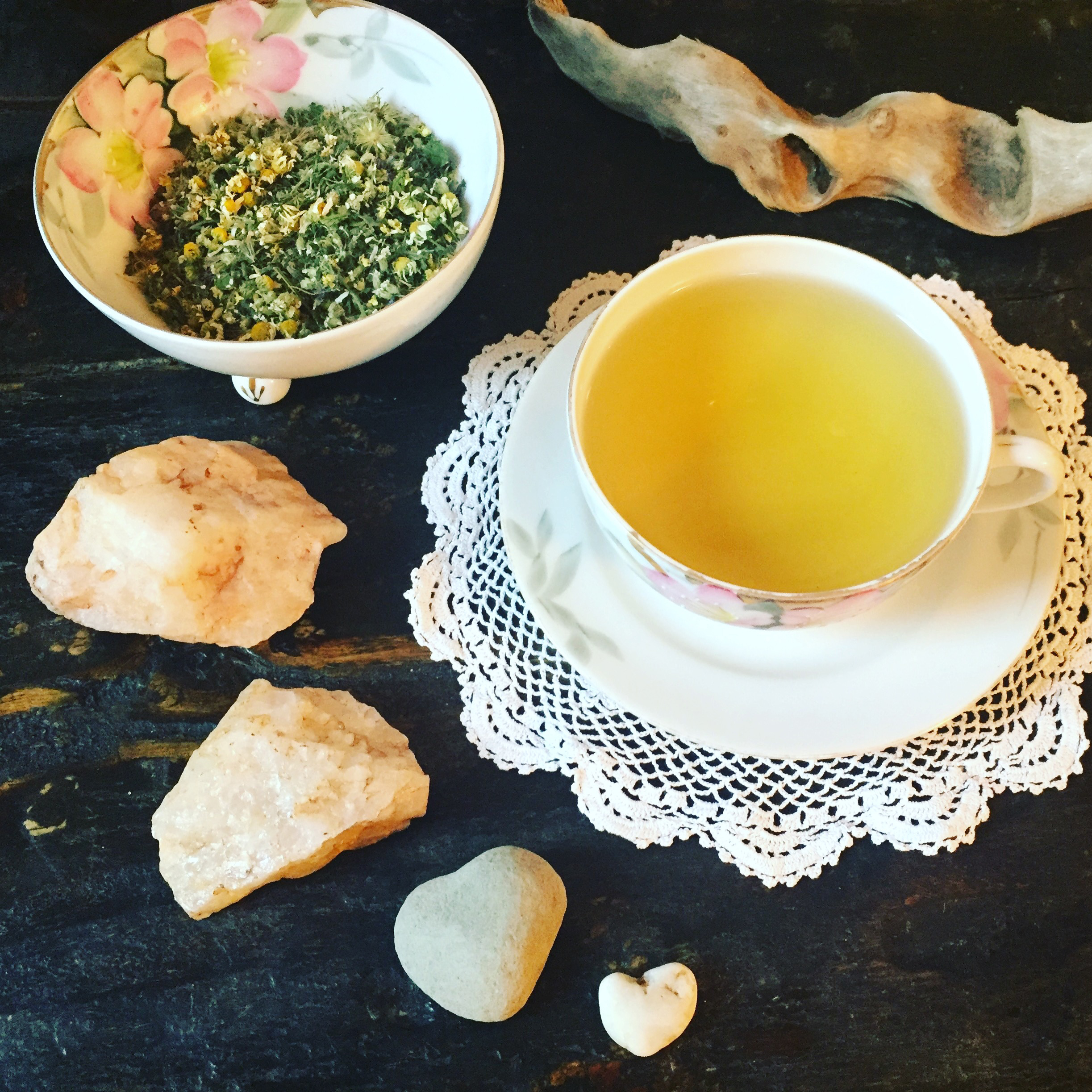 Infusions or "tea", are herbal extracts in water. They are like the foundation of herbal care and can be taken for literally everything. Herbal infusions in warm water are the very easiest for the body to integrate. The body knows what to do with water and the herbs can easily get to where they need to go. Herbal tea can treat digestion, the nervous system, respiratory system, the skin, brain, trauma, bones, the eyes, nausea, fever, you name it. Drink it hot to bring you the warmth you need, or cool on a hot day. All of the herbs in these loose leaf teas are organically grown in my garden or ethically wildcrafted with great care.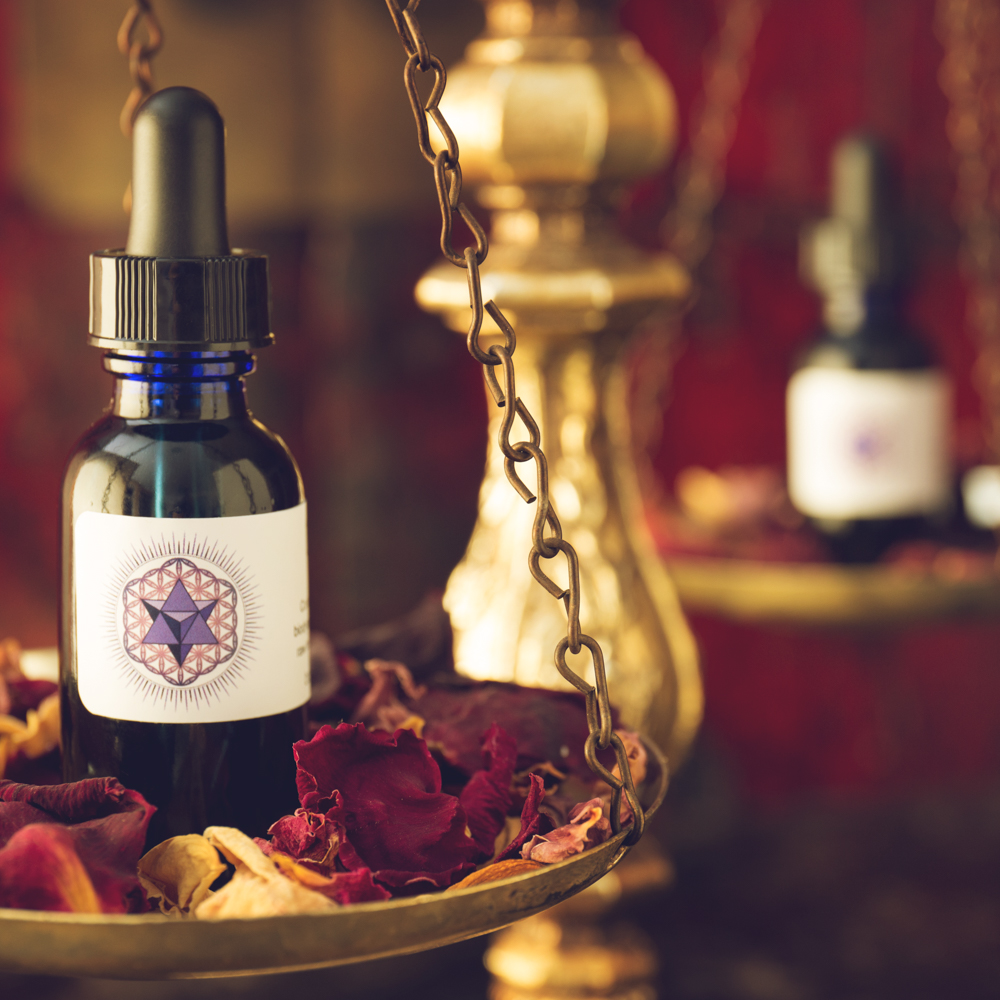 Elixirs are solutions of something watery, an alcohol extract, and something sweet. To be taken as a gentle and potent medicinal remedy.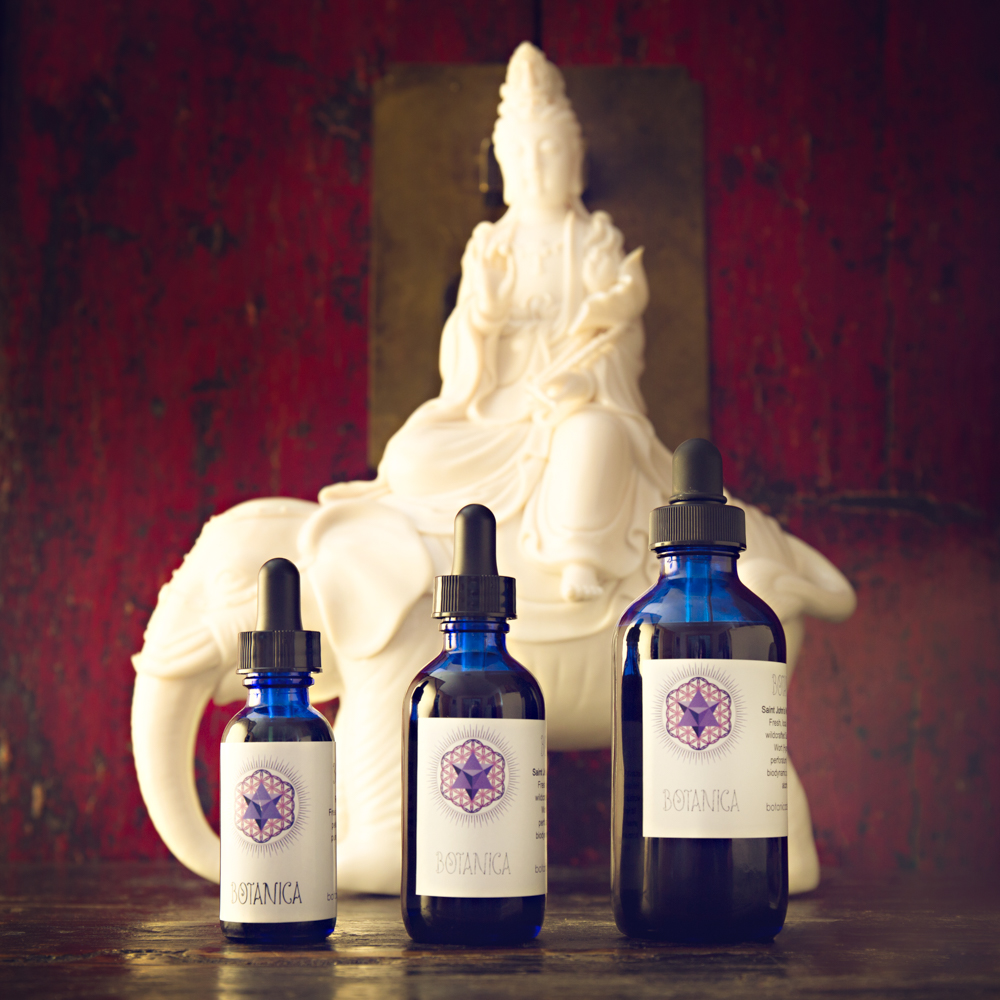 Tinctures are the most potent, long-lasting, and convenient of the folk medicines I make. They are simple alcohol extracts using fresh plants, or in some cases dried. The alcohol I use is 190 proof, pure BD grape alcohol, extracting the very most medicinal constituents from the plant substance, preserving it in this most stable menstrum. The tinctures are potentized by a conscious practice of this extraction in nature and the cosmos. A little will do!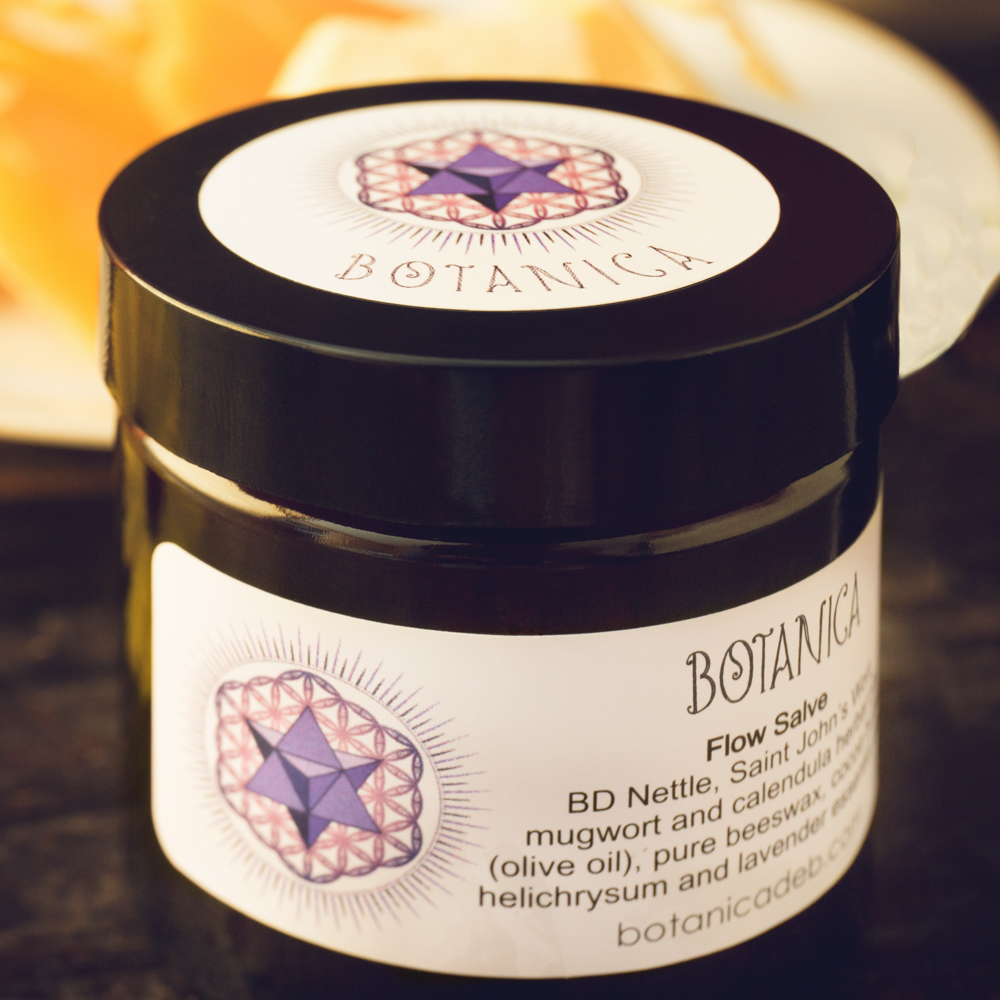 Salves are a great way to apply bug repellant, Saint John's wort to a burn, comfrey to a sprain or break, trauma salve to an impact, and healing salve to a cut. The solution held more solid in beeswax helps the skin slowly absorb the herbs for a prolonged healing effect. The herbal oils are made solid with adding pure beeswax and cocoa butter.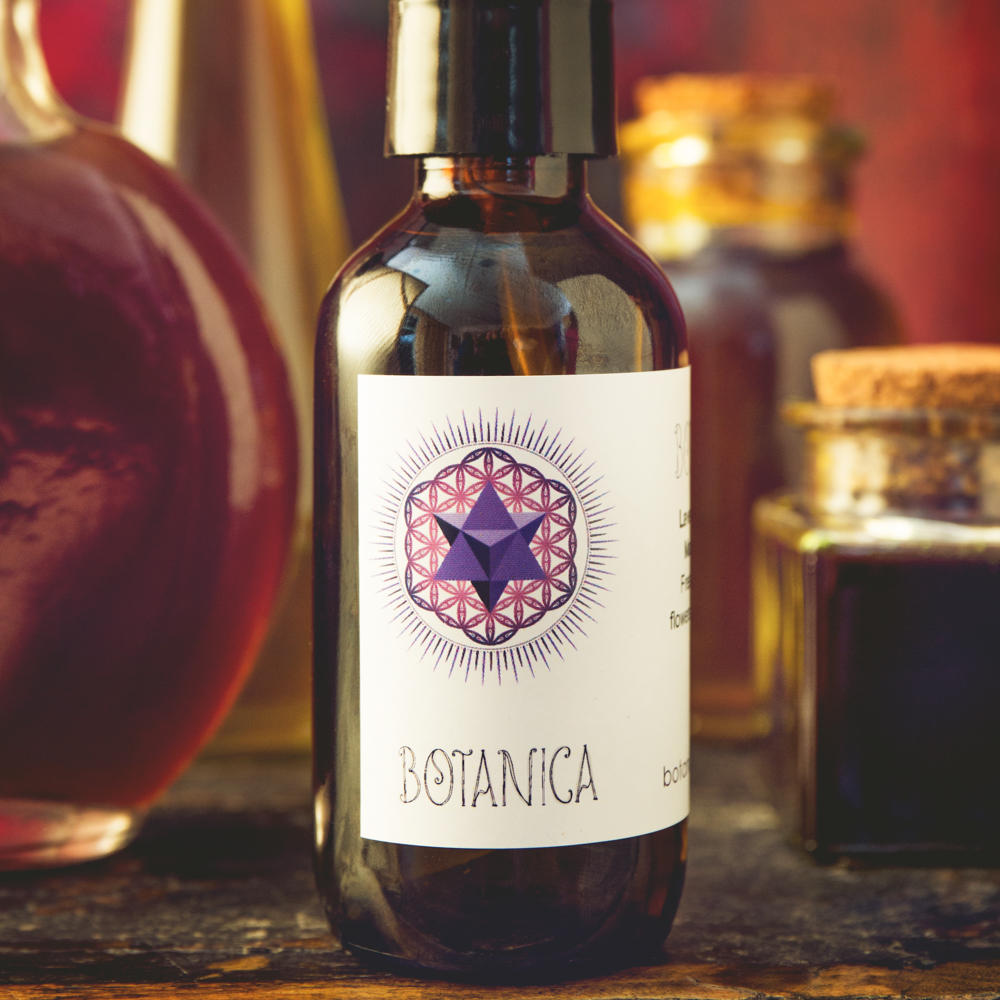 The herbal oils are made using olive oil as it is very stable for a long time, and won't go rancid. Energetically it is neutral, neither warm nor cool. The dried plants are extracted using friction (a blender). The fresh plants are extracted into the oil using time, usually a moon cycle, or one month. These healing oils can be used by themselves as body or massage oil, or turned into salt scrub, salve, balm, or lotion. The body absorbs these right up like nutrition. Treat yourself, and treat your skin!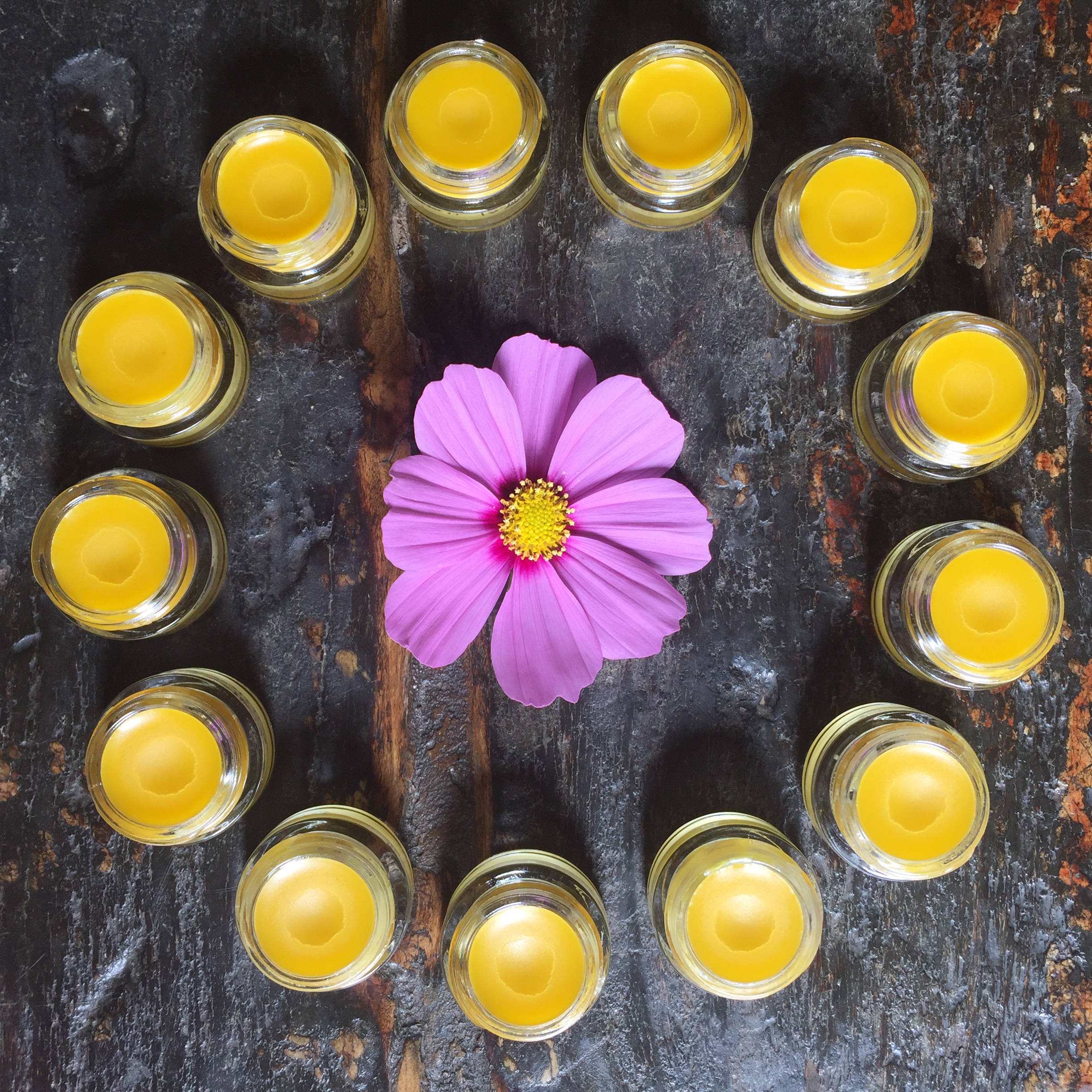 Botanica lip balm is made with only a few pure and simple ingredients to keep your lips happy, or heal them. A balm is just a firmer salve, containing more beeswax and cocoa butter. The emollient quality from the cocoa butter allows it to penetrate deeply into the skin for lasting moisture.
Ingredients include Calendula herbal oil (olive oil), cocoa butter, pure beeswax, and peppermint essential oil. All organic.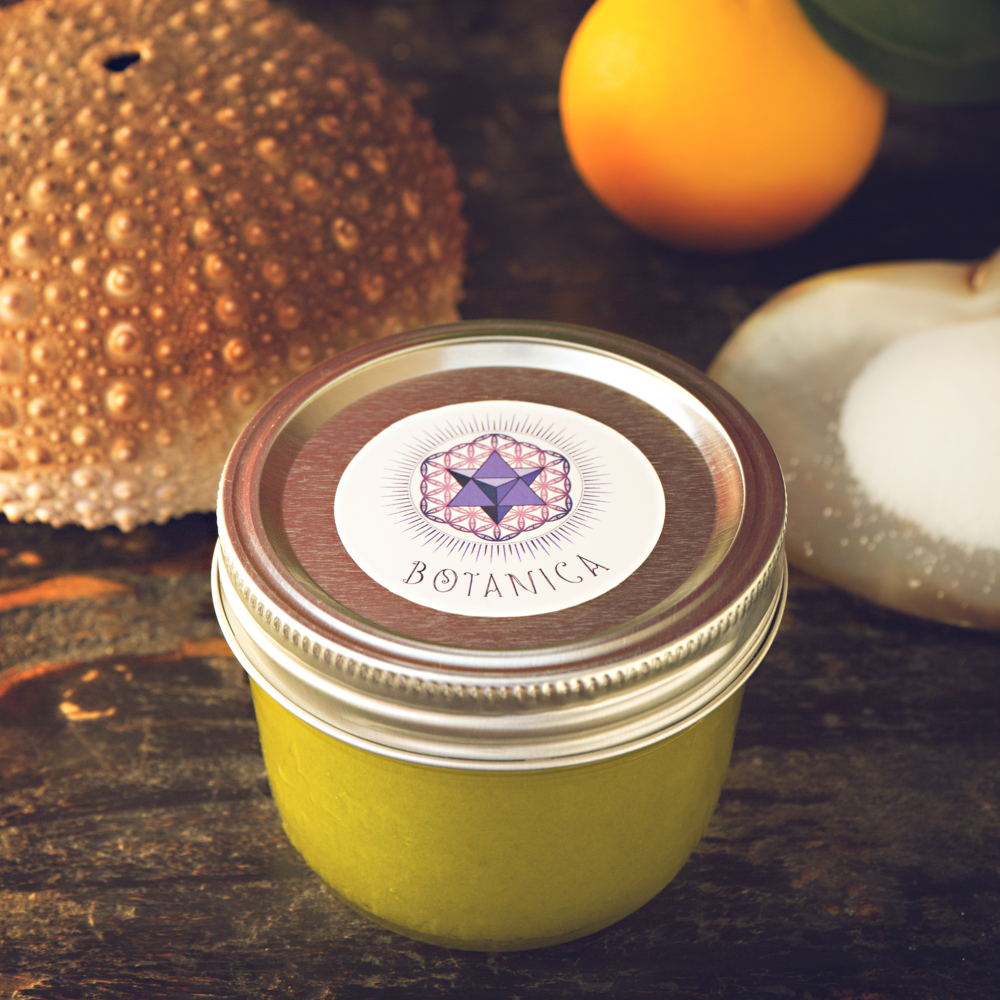 Botanica salt scrubs are nourishing, cleansing, and an effective exfoliant for the skin. I blend sea salt with herbal oils and essential oils for a simple product to use on a regular basis. One of my favorites, for its transformative qualities. It's like purging your stuff.

Botanica's lotions are simply made suspending hydrosols in herbal oils, beeswax, coconut oil, and cocoa butter.
Lotions include Chickweed Neroli and Calendula Rose

A cordial is a comforting or pleasant-tasting medicine. With the root word "cor" it gestures to the heart forces, even though we call it digestive. In Middle English cordial meant "of the heart". This delicious digestive medicine is made with brandy and sweetened with honey. The bitter herbs are blended with warm spices for a layering of flavors so satisfying it warms the heart. We like to have ours after dinner.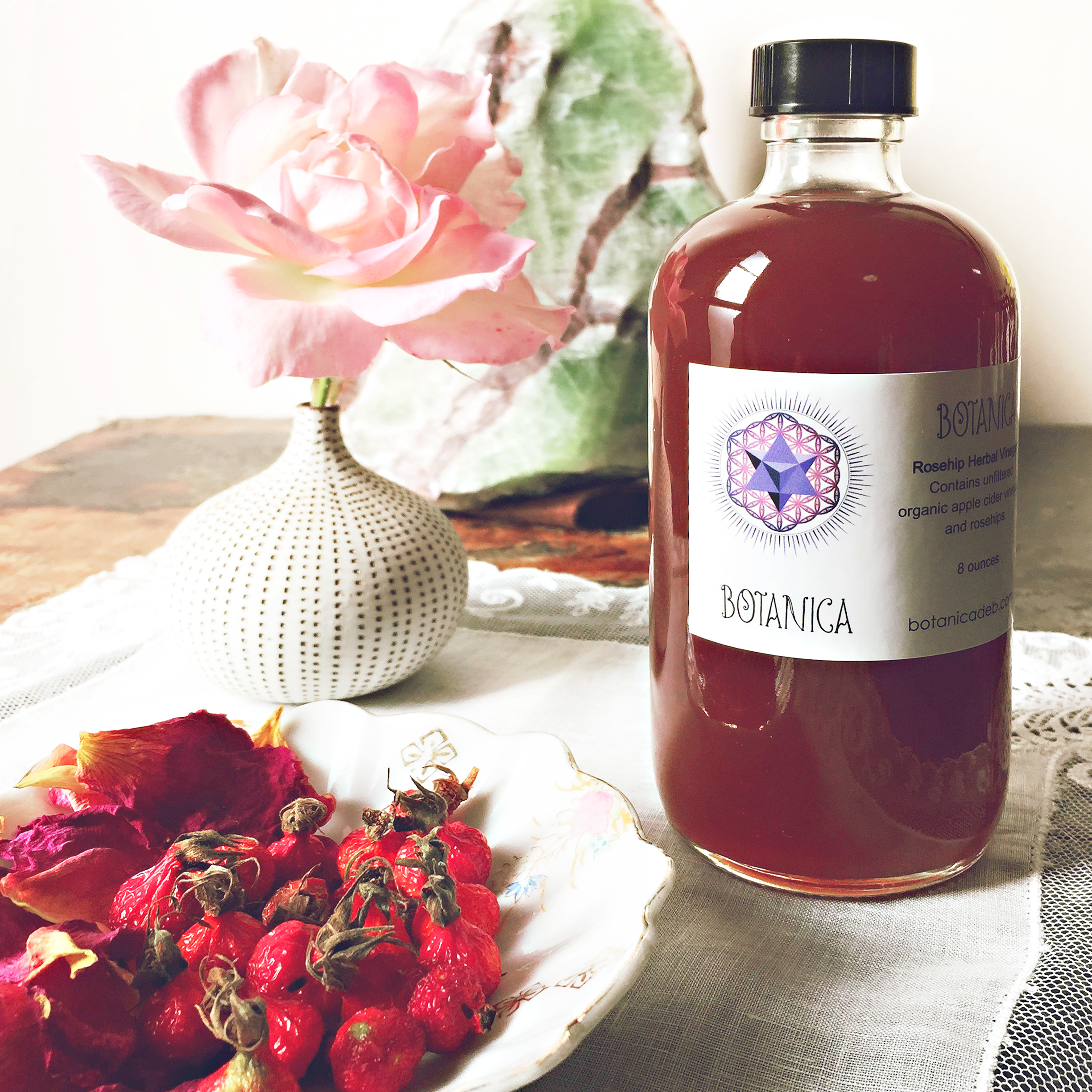 Botanica's herbal vinegars are made with fresh herbs and fruit, and raw apple cider vinegar. They can be taken as a general health tonic, or added to salad dressings and marinades.

Botanica syrups are made with a decoction of herbs and water, raw honey, and a little brandy to preserve freshness. They don't keep very long, but they are so delicious they won't be around that long anyway!
Syrups include fresh elderberry and rose petal.
Premium therapeutic grade essential oils from Original Swiss Aromatics at the Pacific Institute of Aromatherapy. Botanica offers this line of oils for your self care treatments, diffuser, perfume, and creations of all kinds. Enhance your overall health, physical and emotional, with the use of aromatherapy. The careful use of high quality essential oils can reduce stress, increase energy, improve sleep, treat skin, balance hormones, soothe digestion, anxiety, and much much more. A drop of rose oil can change your life, uplift, calm, balance, bring beauty, and that gasp of huh! With wonder these are integrated in to your being.